---
¿Que es una Apostilla?
Apostilla (pronunciada "a-pos-ti-ya"), una palabra francesa para Certificación, es una forma de acreditación que se otorga a los documentos que se utilizan en un país extranjero que participa en el Convenio de La Haya de 1961.  El objetivo del uso de un Apostillado es establecer un sistema simplificado. Las Apostillas está formateadas con un campo numerado que permite que los datos sean comprendidos por el país receptor, independientemente del idioma oficial del país emisor.
---
---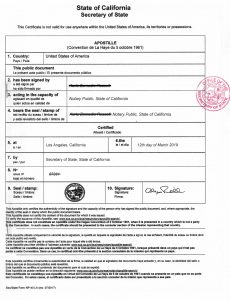 ---
¿Que es una Autentificación?
Si el país de uso previsto no es miembro del Convenio de La Haya, los documentos pueden recibir un certificado de Autentificación (o Autenticación) de la Secretaría del Estado o Departamento de Estado de los EE.UU. Una Autenticación realiza el mismo deber que un documento Apostillado. Tenga en cuenta que, a diferencia del Apostillamiento, que generalmente no requieren legalización adicional, las Autenticaciones del Secretario de Estado pueden requerir una acreditación adicional por parte del Departamento de Estado de los EE.UU. en Washington D.C. antes de enviarlas al extranjero.
---
Procesamos el Apostilla/Autentificación de documentos Americanos para el uso fuera de los Estados Unidos y Apostilla de documentos Mexicanos para el uso fuera de Mexico. Como la mejor Empresa del procesamiento fácil y económico de Apostillar, llevamos más de una década eliminando el engorro del proceso. Estamos orgullosos  de servir a clientes en todo el mundo para procesar documentos de los 50 Estados, así como los documentos que deben ser procesados por la Oficina de Autenticaciones de Washington D.C. Si bien realizamos la mayor parte de nuestro trabajo por correo, también ofrecemos servicios locales en persona en nuestra sede central en el centro de San Diego, California. Cuando usted nos elige, tenga confianza que elige un proveedor de servicios oficiales y excelentes de la Secretaría del Estado para encargarse de sus necesidades. Hemos estado realizando la diligencia debida durante más de una década, ¡y queremos ayudarle a realizar la suya!
---
Lista de documentos que procesamos comúnmente:
Actas de Nacimiento, Matrimonio, Defunción, y Divorcio de EE.UU. o Mexico
Informe Consular de Nacimiento o Fallecimiento en el extranjero de EE.UU.
Decreto de Divorcio, Validación Testamentaria y Documentos de Juicio
Certificados de Estudios Sellados y Firmados
Diploma o Certificado Académico
Copia de Identificación, Licencia, Pasaporte o Registro de Vehículos
Documentos de Adopción
Poder de Representación y Acuerdos
Escrituras, Tratados, Órdenes de Arresto y Extradiciones
Certificados de Solvencia
Estatutos Sociales, Reglamentos y Acuerdos Operativos
Copia de Facturas, Recibos, Cartas de Correo o Facturas de Ventas
Declaraciones Juradas de Verificación de Ingresos
Estado de Soltería para Contraer Matrimonio (Sin Registro de Matrimonio)
Permiso de Viaje de un Hijo Menor / Consentimiento de Padres
Copia de Cualquier OTRA Documentación Personal / Comercial / Académica
Verificación de Antecedentes del FBI (Department of Justice)
Verificación de Documentos del Tribunal Federal de EE.UU. (Department of Justice)
Verificación del Tribunal de Bancarrota de los EE. UU. (Department of Justice)
Certificado de Inmigración (Naturalización) (Dept. of Homeland Security)
Documento de Patente o Marca Comercial (U.S. Patent and Trademark Office)
Certificado de Salud Animal o Animal / Plantas (U.S. Department of Agriculture)
Certificado de Gobiernos Extranjeros (U.S. Department of Health and Human Services)
Certificado Farmacéutico / Exportación (U.S. Department of Health and Human Services)
Documento de la Agencia de Protección Ambiental de los EE. UU.
Documento de la Administración de Seguridad Social de los EE. UU.
Documentos de la Oficina de Administración de Personal de los EE.UU.
OTROS Documentos emitidos por el Gobierno Federal / Estatal / Condado / Ciudad
Estas solo son algunas de nuestras capacidades, por lo que, si tiene un documento fuera de la lista anterior, no dude en contactarnos.
A lo largo de los años, hemos cultivado nuestros servicios para asegurarnos de que podamos cubrir sus necesidades sin importar qué tan compleja o urgente sea su situación.
¡Al centrarnos en sus intereses, podemos tener un mejor desempeño que cualquier otra compañía de Apostillados disponible!
---
Lista de países que participan en el Convenio de La Haya para Apostillados
A
Albania, Andorra, Argentina, Armenia, Australia, Austria, Azerbaijan
B
Belarus, Belgium, Belize, Bosnia and Herzegovina, Brazil, Bulgaria, Burkina Faso
C
Canada, Chile, China (People's Republic of), Costa Rica, Croatia, Cyprus, Czech Republic
D
Denmark
E
Ecuador, Egypt, Estonia, European Union
F
Finland, France
G
Georgia, Germany, Greece
H
Hungary
I
Iceland, India, Ireland, Israel, Italy
J
Japan, Jordan
K
Kazakhstan, Korea (Republic of)
L
Latvia, Lithuania, Luxembourg
M
Malaysia, Malta, Mauritius, Mexico, Monaco, Montenegro, Morocco
N
Netherlands, New Zealand, Norway
P
Panama, Paraguay, Peru, Philippines, Poland, Portugal
R
Republic of Moldova, Republic of North Macedonia, Romania, Russian Federation
S
Saudi Arabia, Serbia, Singapore, Slovakia, Slovenia, South Africa, Spain, Sri Lanka, Suriname, Sweden, Switzerland
T
Tunisia, Turkey
U
Ukraine, United Kingdom of Great Britain and Northern Ireland, United State of America, Uruguay
V
Venezuela, Viet Nam
Z
Zambia
---
Lista de países pendientes a participar en el Convenio de La Haya para Autenticación
A
Antigua and Barbuda
B
Bahamas, Bahrain, Barbados, Belize, Benin, Bolivia, Botswana, Brunei Darussalam, Burundi
C
Cabo Verde, Cambodia, Colombia, Cook Islands, Côte d'Ivoire, Cuba
D
Dominica, Dominican Republic
E
El Salvador, Eswatini (formerly Swaziland)
F
Fiji
G
Gabon, Ghana, Grenada, Guatemala, Guinea, Guyana
H
Haiti, Holy See, Honduras
I
Iraq
J
Jamaica
K
Kenya, Kosovo, Kuwait, Kyrgyzstan
L
Lebanon, Lesotho, Liberia, Liechtenstein
M
Madagascar, Malawi, Mali. Marshall Islands, Mongolia
N
Namibia, Nepal, Nicaragua, Niger, Niue
O
Oman
P
Pakistan
R
Rwanda
S
Saint Kitts and Nevis, Saint Lucia, Saint Vincent and the Grenadines, Samoa, San Marino, Sao Tome and Principe, Senegal, Seychelles
T
Tajikistan, Thailand, Togo, Tonga, Trinidad and Tobago, Turkmenistan
U
Uzbekistan
V
Vanuatu
Z
Zimbabwe
---
Autentificaciones para paises que no participan en el Convenio de La Haya

A
Afghanistan, Algeria, Angola

B
Bangladesh, Bhutan
C
Cameroon, Central African Republic, Chad, Comoros, Democratic Republic of the Congo
Congo, Republic of the

D
Djibouti

E
East Timor (Timor-Leste), Equatorial Guinea, Eritrea, Ethiopia

G
The Gambia, Guinea-Bissau

I
Indonesia, Iran

K
Kiribati, North Korea

L
Laos, Libya

M
Maldives, Mauritania, Federated States of Micronesia, Mozambique, Myanmar (Burma)

N
Nauru, Nigeria

P
Palau, Papua New Guinea

Q
Qatar

S
Sierra Leone, Solomon Islands, Somalia, Sudan, South Sudan, Swaziland, Syria

T
Taiwan, Tanzania, Tuvalu
U
Uganda, United Arab Emirates

V
Vatican City

Y
Yemen
---
Lista de Secretarias de Estados de EE.UU. que otorgan Apostillados Autentificaciones
A
Alabama – AL, Alaska – AK, Arizona – AZ, Arkansas – AR
C
California – CA, Colorado – CO, Connecticut – CT
D
Delaware – DE
F
Florida – FL
G
Georgia – GA
H
Hawaii – HI
I
Idaho – ID, Illinois – IL, Indiana – IN, Iowa – IA
K
Kansas – KS, Kentucky – KY
L
Louisiana – LA
M
Maine – ME, Maryland – MD, Massachusetts – MA, Michigan – MI, Minnesota – MN, Mississippi – MS, Missouri – MO, Montana – MT
N
Nebraska – NE, Nevada – NV, New Hampshire – NH, New Jersey – NJ, New Mexico – NM, New York – NY, North Carolina – NC, North Dakota – ND
O
Ohio – OH, Oklahoma – OK, Oregon – OR
P
Pennsylvania – PA
R
Rhode Island – RI
S
South Carolina – SC, South Dakota – SD
T
Tennessee – TN, Texas – TX
U
Utah – UT
V
Vermont – VT, Virginia – VA
W
Washington – WA, West Virginia – WV, Wisconsin – WI, Wyoming – WY
Washington D.C.
Apostiya, Apostiyado, Apostiyamiento, Apostiyas, Apostiyando, Apostillando
¿Qué servicios ofrece 123 Apostille?
Como proveedor principal de servicios de apostilla y autenticación para personas en todo el mundo, 123 Apostille puede ayudarlo con sus necesidades internacionales de certificación, verificación y autenticación de documentos.

Podemos procesar apostillas, autenticaciones y legalizaciones de consulados o embajadas por usted. También podemos proporcionar servicios de traducción de alta calidad, para su conveniencia.
Tenga en cuenta los siguientes puntos importantes cuando trabaje con nosotros:
Podemos procesar documentos oficiales de cualquiera de los 50 estados de EE. UU. Para una apostilla estadounidense. También podemos procesar documentos federales oficiales originarios de Washington, DC.
Los servicios de legalización consular o consular están disponibles a través de nosotros para países específicos.
Podemos procesar las autenticaciones que involucran a la comunidad internacional en forma de copias certificadas por un notario público.
Los servicios de traducción certificados están disponibles a través de nosotros en español y en muchos otros idiomas.
Además, podemos procesar la apostilla en México para documentos que necesitan ser apostillados en México para su uso en los Estados Unidos u otro país.
También estamos aquí para ayudar con las certificaciones proporcionadas por un notario público.
Si tiene alguna pregunta sobre cualquiera de los servicios que brindamos, no dude en contactarnos. Entendemos que puede ser confuso cuando se trata con agencias en otros países, y queremos ayudarlo a obtener la autorización correcta que necesita para su caso específico. Si tiene alguna pregunta, llámenos y pregunte.
El proceso que está involucrado
Al igual que con la mayoría de las cosas en la vida, hay un proceso involucrado para obtener una apostilla. ¡La buena noticia es que hacemos la parte difícil por usted! Todo lo que usted, nuestro valioso cliente, debe hacer es seguir estos pasos básicos:
Paso 1: complete nuestro formulario de pago, asegurándose de proporcionar información precisa para evitar demoras innecesarias. En este momento, también pagará su pedido para comenzar el proceso.
Paso 2: ¡Relájate y espera a que completemos nuestra parte! Tenemos la experiencia para agilizar el proceso sin sacrificar la calidad o la precisión. Ayudaremos a mover las cosas de la manera más rápida y eficiente posible. En algunos casos, tendrá servicio el mismo día. En otros casos, puede tomar 7 o más días hábiles. Todo depende de lo que hay que hacer y con qué organizaciones tenemos que interactuar.
Paso 3: Una vez que hemos completado nuestro trabajo minucioso y preciso, llegamos al paso favorito de nuestros clientes: ¡usted recibe su pedido! Enviaremos sus documentos procesados ​​durante la noche a su dirección especificada.
¡Ahora ve por qué nos llamamos 123 Apostille, ya que el proceso es tan simple como nuestros pasos 1, 2 y 3!
Otras cosas que debes saber
Queremos que el proceso sea lo más transparente y claro posible para usted. Aquí hay varios datos adicionales que nos gustaría que supieras sobre una apostilla.
Siempre trabaje con una compañía que esté vinculada, con licencia y asegurada y que sea miembro del Better Business Bureau.
Asegúrese de trabajar con una empresa de apostilla que tenga mucha experiencia y pueda proporcionar servicios adicionales, como traducciones (cuando sea necesario).
Trate con una compañía que pueda manejar certificaciones de apostilla en los 50 estados de EE. UU. Y en Washington, DC.
Empresas de buena reputación como 123 Apostille saben cómo obtener los sellos correctos que autentican y validan diferentes tipos de documentos en diferentes países.
¡Los servicios de apostilla son asequibles!
¡Una apostilla puede abrirle puertas emocionantes en sus tratos y viajes internacionales! Contáctenos para saber cómo podemos ayudarlo.
¿Listo para comenzar?
Ahora que sabe un poco más sobre qué es una apostilla y qué implica el proceso de certificación, autenticación, verificación y legalización, comuníquese con 123 Apostille para comenzar a obtener su apostilla. Estamos aquí para ayudarlo y guiarlo en cada paso del camino. ¡Llámenos hoy!