---
What is an Apostille?
Apostille (pronounced "ah-po-steel"), a French word for Certification, is a form of authentication given to documents being used in a foreign country that participates in the Hague Convention of 1961. The objective for using an Apostille is to establish a simplified system. The Apostille is formatted with a numbered field that allows data to be understood by the receiving country regardless of the official language of the issuing country.
---
---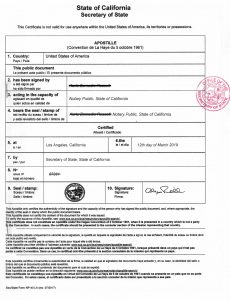 ---
What is an Authentication?
If the country of intended use isn't a member of the Hague Convention, documents can receive an Authentication certificate from the same Secretary/Department of State instead. An Authentication performs the same duty as an Apostille. Note that unlike Apostilles, which typically require no further legalization, Secretary of State Authentications may require further authentication by the U.S. Department of State in Washington D.C. and possibly even Embassy or Consulate Legalization before being sent overseas.
---
What is an Embassy Legalization?
If the country of intended use isn't a member of the Hague Convention, some documents may require another step in order to obtain Embassy or Consular Legalization. Embassy Legalization (AKA: Embassy Authentication, Embassy Certification, Consular Legalization, Consular Authentication, Consular Certification, Consulate Legalization, Consulate Authentication, Consular Certification) isn't common but some countries may require you to do so before turning your documents in. Although Consulates, which are smaller versions of Embassies may authenticate or legalize your certified documents,  in some cases your documents may only be legalized by the permanent diplomatic mission of the Country's Embassy located in Washington D.C.
---
We process Apostille/ Authentication/ Embassy Legalization of American documents to use outside of the United States as well as Apostillas of Mexican documents to use outside of Mexico.  As the premier Apostille- Authentication team, we've been taking the hassle out of the process for more than a decade. We're proud to serve clients worldwide by processing documents from all 50 States of USA, as well as documents required to be processed by Washington D.C.'s Office of Authentications and/or Embassy of country's intended use. While we do a majority of our work through the mail, we also offer in-person local services at our downtown San Diego Headquarters. When you choose us, you choose an official and excellent service provider of the Secretary of State to handle your needs. We've been doing due diligence for more than a decade, and we want to help you do yours!
---
List of documents we commonly process:
Birth, Marriage, Death, and Divorce Certificates of USA

Consular Report of Birth or Death Abroad of USA
Divorce Decree, Probate Will, and Judgment Documents
School Sealed and Signed Transcripts
Academic Diploma, Certificate or Degrees
Copy of ID, License, Passport ID page or Vehicle Registration
Adoption Documents
Powers-of-Attorney and Agreements
Deeds, Treaties, Warrants, and Extraditions
Certificates of Good Standing
Company Articles, Bylaws, and Operating Agreements
Copy of Invoices, Receipts, Courier Letters or Bill of Sales
Income Verification Affidavits
Single Status to Marry (No Record of Marriage)
Minor Child Travel Permission/Consent by Parent
Copy of any OTHER Personal/Business/Academic Documents
FBI Background Check (Department of Justice)
U.S. Federal Court Document Check (Department of Justice)
U.S. Bankruptcy Court Check (Department of Justice)
Immigration (Naturalization) Certificate (Dept. of Homeland Security)
Patent or Trademark Document (U.S. Patent and Trademark Office)
Animal Health or Animal/Plant Cert (U.S. Department of Agriculture)
Certificate of Foreign Governments (U.S. Department of Health and Human Services)
Certificate of Pharmaceutical/Export (U.S. Department of Health and Human Services)
U.S. Environmental Protection Agency Document
U.S. Social Security Administration Document
U.S. Office of Personnel Management Document

OTHER Federal/State/County/City Government Issued Documents
This is just some of our capabilities, so if you have a document outside the list above, feel free to contact us.
Over the years, we've cultivated our services to make sure we can keep you covered no matter how complex or urgent your situation may be. By keeping your interests front and center, we're able to perform better than any other Apostille company available!
---
List of Member Countries of the Hague Convention for Apostilles
The following countries are all members of the Hague Convention and recognize Apostilles. The Apostille certificate will be legally recognized and no further legalization or embassy certification may be required. If the country you intend to present the documents in is not listed here, you may still obtain a State and or Federal Authentication. The Hague Conference currently has 83 Members: 82 States and 1 Regional Economic Integration Organization.
A
Albania, Andorra, Argentina, Armenia, Australia, Austria, Azerbaijan
B
Belarus, Belgium, Belize, Bosnia and Herzegovina, Brazil, Bulgaria, Burkina Faso
C
Canada, Chile, China (People's Republic of), Costa Rica, Croatia, Cyprus, Czech Republic
D
Denmark
E
Ecuador, Egypt, Estonia, European Union
F
Finland, France
G
Georgia, Germany, Greece
H
Hungary
I
Iceland, India, Ireland, Israel, Italy
J
Japan, Jordan
K
Kazakhstan, Korea (Republic of)
L
Latvia, Lithuania, Luxembourg
M
Malaysia, Malta, Mauritius, Mexico, Monaco, Montenegro, Morocco
N
Netherlands, New Zealand, Norway
P
Panama, Paraguay, Peru, Philippines, Poland, Portugal
R
Republic of Moldova, Republic of North Macedonia, Romania, Russian Federation
S
Saudi Arabia, Serbia, Singapore, Slovakia, Slovenia, South Africa, Spain, Sri Lanka, Suriname, Sweden, Switzerland
T
Tunisia, Turkey
U
Ukraine, United Kingdom of Great Britain and Northern Ireland, United State of America, Uruguay
V
Venezuela, Viet Nam
Z
Zambia
---
List of Pending Member Countries of the Hague Convention for Authentication
The following Parties (70) are not Members of the Hague Conference on Private International Law, but have signed, ratified or acceded to one or more Hague Conventions or are in the process of becoming a Member.
A
Antigua and Barbuda
B
Bahamas, Bahrain, Barbados, Belize, Benin, Bolivia, Botswana, Brunei Darussalam, Burundi
C
Cabo Verde, Cambodia, Colombia, Cook Islands, Côte d'Ivoire, Cuba
D
Dominica, Dominican Republic
E
El Salvador, Eswatini (formerly Swaziland)
F
Fiji
G
Gabon, Ghana, Grenada, Guatemala, Guinea, Guyana
H
Haiti, Holy See, Honduras
I
Iraq
J
Jamaica
K
Kenya, Kosovo, Kuwait, Kyrgyzstan
L
Lebanon, Lesotho, Liberia, Liechtenstein
M
Madagascar, Malawi, Mali. Marshall Islands, Mongolia
N
Namibia, Nepal, Nicaragua, Niger, Niue
O
Oman
P
Pakistan
R
Rwanda
S
Saint Kitts and Nevis, Saint Lucia, Saint Vincent and the Grenadines, Samoa, San Marino, Sao Tome and Principe, Senegal, Seychelles
T
Tajikistan, Thailand, Togo, Tonga, Trinidad and Tobago, Turkmenistan
U
Uzbekistan
V
Vanuatu
Z
Zimbabwe
---
Authentications for all other Non-Member Countries of the Hague Convention
A
Afghanistan, Algeria, Angola

B
Bangladesh, Bhutan
C
Cameroon, Central African Republic, Chad, Comoros, Democratic Republic of the Congo
Congo, Republic of the

D
Djibouti

E
East Timor (Timor-Leste), Equatorial Guinea, Eritrea, Ethiopia

G
The Gambia, Guinea-Bissau

I
Indonesia, Iran

K
Kiribati, North Korea

L
Laos, Libya

M
Maldives, Mauritania, Federated States of Micronesia, Mozambique, Myanmar (Burma)

N
Nauru, Nigeria

P
Palau, Papua New Guinea

Q
Qatar

S
Sierra Leone, Solomon Islands, Somalia, Sudan, South Sudan, Swaziland, Syria

T
Taiwan, Tanzania, Tuvalu
U
Uganda, United Arab Emirates

V
Vatican City

Y
Yemen
---
List of U.S. Secretaries of States issuing Apostille and Authentications
A
Alabama – AL, Alaska – AK, Arizona – AZ, Arkansas – AR
C
California – CA, Colorado – CO, Connecticut – CT
D
Delaware – DE
F
Florida – FL
G
Georgia – GA
H
Hawaii – HI
I
Idaho – ID, Illinois – IL, Indiana – IN, Iowa – IA
K
Kansas – KS, Kentucky – KY
L
Louisiana – LA
M
Maine – ME, Maryland – MD, Massachusetts – MA, Michigan – MI, Minnesota – MN, Mississippi – MS, Missouri – MO, Montana – MT
N
Nebraska – NE, Nevada – NV, New Hampshire – NH, New Jersey – NJ, New Mexico – NM, New York – NY, North Carolina – NC, North Dakota – ND
O
Ohio – OH, Oklahoma – OK, Oregon – OR
P
Pennsylvania – PA
R
Rhode Island – RI
S
South Carolina – SC, South Dakota – SD
T
Tennessee – TN, Texas – TX
U
Utah – UT
V
Vermont – VT, Virginia – VA
W
Washington – WA, West Virginia – WV, Wisconsin – WI, Wyoming – WY
Washington D.C.
Apostilled, Apostilling, Apostil, Apostils, Apostiling, Apostiled, Apostiles, Apostiya, Apostiyado, Apostiyamiento, Apostiyas, Apostiyando, Apostillando, apostillar, apostilla, apostillamiento, apostillado