Apostille (Authentication)
Thank you for your interest in our Apostille services! The purpose of this page is to not only to share important information with you about our Apostille services, but also to clarify what an Apostille is and when you might need one.
First things first: What is an Apostille?
To answer that, let's briefly look at where the word originates. Apostille is actually a French word that means certification. So essentially, an apostille is a form of certification, verification, and authentication of certain types of documents. It may be needed by the international community in specific cases, such as when you are traveling or doing business/personal affairs in another nation.
---
---
What 123 Apostille Does
Now that you're a little more familiar with what the word Apostille means, you might be wondering what our company does.
In brief, 123 Apostille processes Apostille, Authentication, Consulate/Embassy Legalization and Translation for any type of document that will be used in another country. Here are several things to keep in mind:
For an American Apostille (Authentication), we are able to process official documents from any of the 50 U.S. states, as well as official federal documents that originate in Washington, DC. We can also further assist with Embassy Legalization (Consular Legalization) for specific countries if needed.
Some of our services include Copy Certifications by a Notary Public, which allow us to process authentications that involve the international community.
We also provide Certified Translation services in multiple languages, including Spanish by a "Perito Traductor"  from Mexico or a "Traductor Jurado" from Spain, certified by the "Ministerio de Asuntos Exteriores, Unión Europea y Cooperación de España".
We also process the "Apostilla" in Mexico! This is when documents need to be Apostilled in Mexico (instead of in the USA) to use in another country, including the United States. We can also further assist with the necessary certifications given by a Notario Público from Mexico.
The Apostille Process
So that's what our company does! We help our clients process and authenticate documents including from the U.S. and Mexico, to facilitate interactions with  any other nation. Now let's get into some details of the Apostille Process itself when you work with us.
Step 1
It all begins with you, our esteemed client, filling out our Checkout Form. This form is unique and simple, and the process of filling it out is fairly quick. Of course, if you ever have any questions or wonder what to fill in at any point, we are here to help, so all you have to do is reach out to us!
It's important that you fill out our Checkout Form accurately, because it asks the precise questions that must be answered according to the type of document or service that's needed. By carefully including your answers and following the instructions, you will be providing the vital information that's required.
Once the form is complete, you will pay for your order and provide us with any additional information and instructions we may need. All of this is done conveniently in one place!
Step 2
After you've submitted your details, your payment, and any special instructions to us, the next step for you is to simply wait! We fully understand that this is a very difficult part for many of our clients, but rest assured, we are doing everything in our power to process your order in the most timely manner possible.
While you wait, our team is receiving, reviewing, and processing your documents. This is a very methodical task that requires meticulous attention to detail. While we work hard to make your waiting time as short as possible, it's important that all the i's are dotted and the t's are crossed, so to speak. If the job isn't done right, our clients could experience delays or rejections from the nations they are interacting with. This is why accuracy is far more important than speed.
So if you find yourself waiting and wondering what's taking so long, it's that our team is busy verifying, authenticating, and processing documents to the minutest details. We work hard to get it right so that you can enjoy smooth, simplified interactions with the nation in question.
Rest assured, during this time (which can range from same-day service to 7 or more business days, depending on what's being processed and which nation requires the information) you can reach out to us with any questions you may have. We are happy to address your inquiries and provide updates. What's more, we'll work hard to accommodate emergency deadlines as best as possible.
Step 3
This third step is by far the favorite of our clients. It's when you receive your order! Once we have fully and accurately processed your documents, we will ship them overnight to your specified address. You will receive your completed documents with everything in order, and they will be ready for you to deliver to your final destination.
It really is that simple! 123 Apostille has been providing top-quality apostille services to clients for over 15 years, which means we have perfected our process to make it the most efficient it can be.
If you need your paperwork taken care of across the globe, turn to us. We have the experience, expertise, and background to do the job right for you!
---

---
Additional Facts About An Apostille?
We've covered a lot of ground already regarding our apostille services, including document authentication, the apostille process, and the importance of filling out your Checkout Form accurately to avoid delays, returns, or extra expenses. What else do you need to know about an apostille?
This list summarizes the main points we'd like our clients to know about an apostille:
An American Apostille is an authentication of American documents that are to be used for official business outside of the United States.
A Mexican Apostilla is an authentication of Mexican documents that are to be used for official business outside of Mexico.
When getting apostille services, it is best that you work with a company that is bonded, licensed, and insured (or a member of the Better Business Bureau).
It also helps to work with a company that is highly experienced and has streamlined the apostille process for its clients.
In additional to document authentication, apostille services may include Consulate/Embassy Legalization services, notary public services, and multiple-language translation services.
You will want to work with a company that is able to handle apostille certifications in all 50 U.S. states and in Washington, DC.
A reputable apostille company will handle the apostille authentication process from start to finish.
A good apostille services provider will also have strong community connections to facilitate the process.
With any apostille process, the goal is to obtain the proper seal that authenticates the document in question.
You don't have to pay high prices for efficiency; good apostille services can be affordable!
---
When Might You Need The Services Of An Apostille?
How do you know if you need apostille services? Let's go over some cases where these services may be needed.
As we've stated earlier, an apostille is a form of authentication given to documents that are being used in a foreign country. For the apostille to be valid, the nation in question must participate in the Hague Convention of 1961. Under the Apostille Convention or Apostille Treaty, a document with an apostille is considered legal between the two countries involved, and the apostille is sufficient to certify the validity of the document. This saves both time and money; otherwise, the document would have to be verified independently both at the sending and receiving nations.
---
Apostille Samples:
---
Examples of documents that may need an apostille include the following:
United States birth, marriage, death, or divorce certificates
Signed and sealed school transcripts
College-related documents, such as degrees, certificates, and diplomas
Income verification affidavits
Permission for a minor child to travel unaccompanied
Department of Justice FBI background check
Department of Homeland Security immigration certificate
U.S. Patent and Trademark Office document
Other government documents issued by the federal government, a state, a county, or a city
---
Apostille Or Notary: What's The Difference?
So what's the difference between getting a document notarized or apostilled? Is there a difference?
While there are similarities between a notary and an apostille, there are significant differences as well. These are the key distinctions between them:
An apostille/Authentication of a document is asked by an entity in a foreign country and are applied to documents that will be used outside their own country.
A notarized document without an Apostille is good within the country it was Notarized in and implies that the person who signed the document has been verified by a Notary Public.
Although an apostille may also require a notarization depending on the type of document, it does not always need one.
Not every notary may offer translation and/or apostille services.
Translation services typically fall under the apostille umbrella, but are not always required to obtain.
If any of this is confusing or unclear, we invite you to reach out to us. We'll be happy to explain and clarify the differences between these types of services to ensure that you are getting what you need!
---
Questions You May Have
You may have additional questions related to apostille services. Your questions may revolve around any of the following:
Is a public notary seal on my document sufficient?
What additional services does an apostille company provide?
Can you process a specific document that I have in my possession?
What additional supporting authenticating documents do I need to provide?
What does the apostille process involve?
What is the Hague Convention of 1961?
Which countries participate in the Apostille Treaty?
What if I need to deal with a country that is not part of the Hague Convention?
Can you tell me more about apostille formatting?
What is an apostille authentication?
What is an embassy legalization?
Can your company handle my very complex situation?
Regarding that last question, rest assured that 123 Apostille has the background and experience to correctly handle even the most complex cases. We have cultivated our services over time to ensure we can handle every case that comes our way, regardless of the urgency or complexity involved. In all that we do, we strive to put our clients' interests and needs first!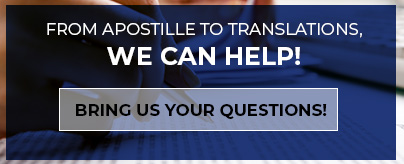 ---
What Happens After You Order?
Once you have placed your order with us, we will do the important task of processing your documents. We ask for your patience during this time. First, we need to receive your documents; this isn't instantaneous! Once we've received them, we will thoroughly review each piece to ensure it is handled correctly.
During this phase, questions may arise, and we may contact you for clarification. While we've seen just about every document out there, rules frequently change, and we may need to explore an unfamiliar certificate or form further to be sure we completely understand what it is and how to properly process it.
After we finish reviewing your papers, we go through the important work of processing your documents. Considering how many documents can be apostilled, and how many different nations in the world may need access to these, it's remarkable that many orders can be completed by the next few days!
More commonly, it will take around seven (7) business days to complete. What happens during processing will depend in large part on what your request is. If you've asked us to help you obtain a copy of the document you need processed, it will take more time for us to get that done. If we need additional information or clarification to fully finish and close your case, we will get in touch with you, and depending on how long it takes to reach you and obtain the needed information, additional time may be required.
Even if a job does take a little longer to complete, the good news is that it'll get done correctly! We value doing the job right, and we see getting documents authenticated as a collaborative process with our clients. We invite you to be a part of the process by asking whatever questions you may have! In turn, we see this as a partnership where you and our company work together to get your documents processed and apostilled as quickly and accurately as possible.
Once all the work is done, the final step is to send you your processed documents. This is the moment you've waited for! 123 Apostille will overnight deliver your documents to the address you specified to us. Once you receive them, please check them and get in touch right away if you have any questions. When we ship your processed documents to you, they'll be ready to be turned in to their destination.
---
Apostille Rates
By now you may be wondering, how much do apostille services cost? Let's talk a little bit about rates. For full information, please check our rates page.
Because every case is different, prices will vary from one client to the next. However, our rates are clear, and our payment structure is simple to understand.
An apostille authentication from the United States for your first document runs between $129 and $189, depending on the complexity and type of document you need processed.
If you need a certified translation to another language, this typically costs between $19 and $49 per page, depending on how long the document is.
Overnight shipping within the United States currently costs $19, while overnight shipping involving Mexico costs $49.
Please use these rates as guidelines to give you an idea of how much the process may cost. Rates do change from time to time, so check our rates page for the latest pricing. If you have any questions, don't hesitate to contact us!
---
Some Resources For You
As with any industry, knowledge is invaluable!
To that end, and to further assist our clients, we've compiled a page of resources you may find helpful. Here's just a small sampling of what you'll find on our resources page that you can put to use for yourself:
Take a look at what other helpful resources we've listed on our site!
---
About Hague Convention Participating Nations
On our site, we've compiled a list of member countries of the Hague Convention for apostilles. This list comprises the participating nations that recognize apostilles; with these nations, your apostille certificate will be legally recognized. For the vast majority of these cases, no further legalization or embassy certification will be required.
These countries include United States, Mexico, Australia, Burkina Faso, Chile, Denmark, Egypt, Finland, Greece, Hungary, India, South Korea, Latvia, Malaysia, New Zealand, Paraguay, Romania, Saudi Arabia, Tunisia, Ukraine, Vietnam, and Zambia.
For a full list of participating nations, please take a look at our "What Is Apostille?" page.
For Non-Participating Nations of Hague Convention
You may be wondering what to do if the nation you need to deal with is not a member of the Hague Convention. In these cases, you may still obtain state or federal authentication. Get in touch with 123 Apostille to learn about this process.
Some of the nations that are working towards membership include Belize, Cambodia, Dominica, El Salvador, Fiji, Grenada, Honduras, Iraq, Jamaica, Kyrgyzstan, Niger, Pakistan, Tonga, Uzbekistan, and Zimbabwe.
Non-member nations include Algeria, Bhutan, Chad, Eritrea, Indonesia, Libya, Nigeria, Qatar, Syria, Taiwan, United Arab Emirates, and Yemen.
Please contact us to learn more about how to get authentications for each country.
---
How To Get Started With Us
To get started working with 123 Apostille, simply give us a call during our regular business hours, or request an appointment using our convenient online form. We will work with you to accommodate your needs as best as possible. Get in touch with 123 Apostille today!